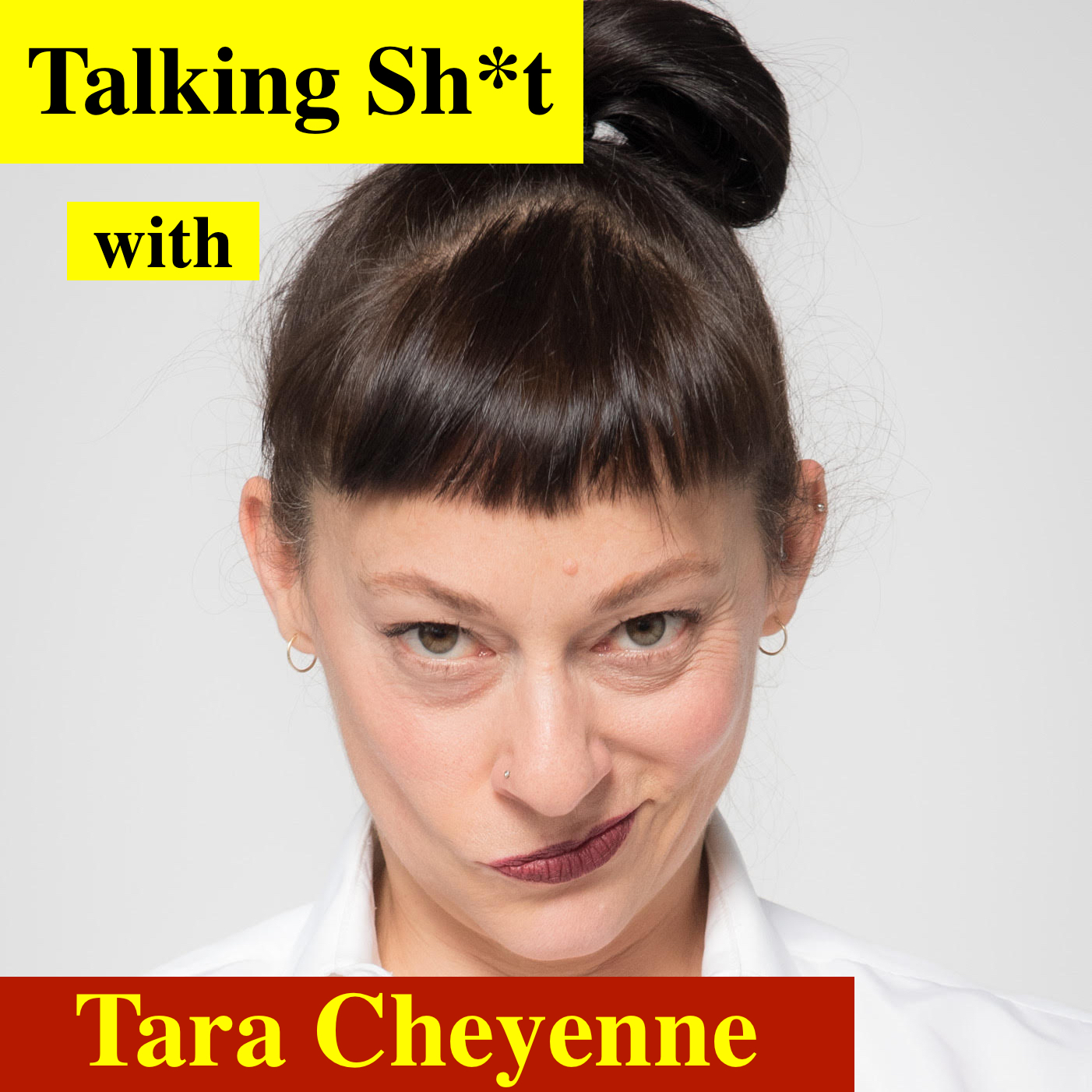 Episode 19 - NEW Encore Interview with Justine A Chambers: Dance-Artist/Thinker/Activator
Jul 18th, 2020 by taracheyenne
Talking Shit with Tara Cheyenne is a Tara Cheyenne Performance Production
Instagram: @TaraCheyenneTCP  /  FB: Tara Cheyenne Performance
Podcast produced, edited and music by Marc Stewart Music
© 2020 Tara Cheyenne Performance
Subscribe/follow share through Podbean and Google Podcasts and Apple Podcasts/iTunes
Donate! To keep this podcast ad-free please go to: 
Show Notes:
NEW Encore Interview with Justine A Chambers, dance-artist/thinker/activator.
I sit down again with the amazing Justine  A Chambers, 4 months into the pandemic and 5 weeks into the overdue (by centuries) awakening to the necessity for racial justice, to check in on how she is doing as my friend and as a black woman, what she is thinking about, and hear her many great ideas and razor sharp insight. 
First interview with Justine A Chambers April 26th 2020 (Episode 13):
https://taracheyenne.podbean.com/e/episode-13-interview-with-dance-artist-justine-a-chambers-creativity-in-the-time-of-covid-19/
Justine A. Chambers is a dance artist living and working on the unceded Coast Salish territories of the Squamish, Musqueam and Tsleil-Waututh Nations. Her movement based practice considers how choreography can be an empathic practice rooted in collaborative creation, close observation, and the body as a site of a cumulative embodied archive. Privileging what is felt over what is seen, she works with dances that are already there –the social choreographies present in the everyday. She is Max Tyler-Hite's mother.
The anchors of Justine A. Chambers movement based practice are found in collaborative creation, close observation, and the idea of choreography as living archive. She is concerned with a choreography of the everyday; with the unintentional dances, as she describes them "that are already there." Her recent choreographic projects include: and then also this, One hundred more, tailfeather, for all of us, it could have been like this, ten thousand times and one hundred more,  Family Dinner, Family Dinner: The Lexicon, Semi-precious: the faceting of a gemstone only appears complete and critical; Enters and Exits and COPY.
Chambers' work has been hosted at: Contemporary Art Gallery Vancouver, Nanaimo Art Gallery, Art Museum at University of Toronto, Morris and Helen Belkin Art Gallery, Cantor Fitzgerald Gallery, Mile Zero Dance Society, Festival of New Dance, Agora de la danse, Canada Dance Festival, Dance in Vancouver, Dance Saskatchewan, Dancing on the Edge Festival, New Dance Horizons, The Roundhouse Community Arts Centre, Vancouver Art Gallery and the Western Front.
Chambers is a founding member of project bk, artist in residence at artist run centre 221A (2017), a selected artist for the  Visiting Dance Artist Program at the National Arts Centre(2019-2020), recipient of the Lola Award in 2018, one of three choreographer's in the Yulanda Faris Choreographer's Program (2017-2018), associate artist and artist in residence to The Dance Centre (2015-2017),
Justine has collaborated on projects with:
Digital video artist Josh Hite: COPY: a movement based installation, Incoming, Green Boot Print (The Roundhouse Community Arts Centre, Code Lab and 350.org), Choreography Walk (2015: Vancouver, 2019: Hong Kong, 2019: Vancouver).
Choreographer and dancer Laurie Young: One hundred more
Visual artist Natalie Purschwitz and sound artist Anju Singh: Co-facilitation of Trackings and Trappings – Summer Institute at Plug In Institute of Contemporary Art
Sound artist Elisa Ferrari: EMF Movement Studies. 
Dance Artist Alexa Solveig Mardon and scholar Peter Dickinson: Our Present Dance Histories
Visual artist Evann Siebens:  Homemade Again.
Dance artist Claudia Fancello: Light Was The Night: Night Shifting.
Musician Ben Brown:  We're Making a Band
Visual Artist Brendan Fernandes: The Working Move (The Western Front, The Stedelijk Museum)
Contemporary Gamelan Composer Michael Tenzer: Sphinx (Tour of Bali 2013)
Visual artist Jen Weih: Stack of Moves (Wrong Waves Festival 2013)
Visual artists Marilou Lemmens and Richard Ibghy: Is there anything at all left to do be done at all (Trinity Square Video)
Dance artist Deanna Peters: One + the Other (The Cultch and New Dance Horizons)
From 20212-2018, Chambers, Sadira Rodrigues and battery opera's Su Feh Lee co-facilitated the monthly forum The Talking Thinking Dancing Body; a conversation about aesthetics, context and artistic processes.
As a dancer, she has worked with a number of choreographers both nationally and abroad. Including: ame henderson, sasha ivanochko, battery opera, adelheid dance projects, Company 605, Tara Cheyenne Performance, Oded Graf and Yossi Berg, Wen Wei Dance, Mascall Dance.
Chambers teaches contemporary dance technique at Arts Umbrella, Working Class, Toronto Community Love-In, Modus Operandi Training Program and Ballet BC. Justine is currently engaged as an artistic monitor for the work of Mardon + Mitsuhashi, and Amanda Acorn.
Chambers is Max Tyler-Hite's mother.See More from Justine Chambers
About Tara:
Tara Cheyenne Friedenberg is an award winning creator, performer, choreographer, director and writer. Artistic Director of Tara Cheyenne Performance, she is renowned as a trailblazer in interdisciplinary performance and as a mighty performer "who defies categorization on any level"(The Georgia Straight).
Tara is celebrated nationally and internationally for her unique and dynamic hybrid of dance, comedy and theatre. The string of celebrated full-length solo shows to her credit includes bANGER, Goggles, Porno Death Cult, and I can't remember the word for I can't remember, and she partners regularly on multidisciplinary collaborations, commissions and boundary-bending ensemble creations. When she isn't creating innovative movement for theatre, Tara performs around the world- highlights include DanceBase/Edinburgh, South Bank Centre/London, On the Boards/Seattle USA, and High Performance Rodeo/Calgary. Recent works include The Body Project (premiering 2020/21 season) The River with dance artist Miriam Colvin and artist and activist Molly Wickham (premiering 2021 in Wet'suwet'en Territory), empty.swimming.pool with Italian dance/performance artist Silvia Gribaudi, (Castiglioncello, Bassano, Victoria, B.C. and Vancouver, B.C.), how to be (Vancouver, B.C.) , and I can't remember the word for I can't remember (currently touring). Tara lives on the unceded and traditional territory of the xʷməθkʷəy̓əm (Musqueam), səlil̓wətaɁɬ (Tsleil-Waututh) and Sḵwx̱wú7mesh Úxwumixw (Squamish Nation)/East Vancouver with her partner composer Marc Stewart.
Share
|
Download(

Loading

)