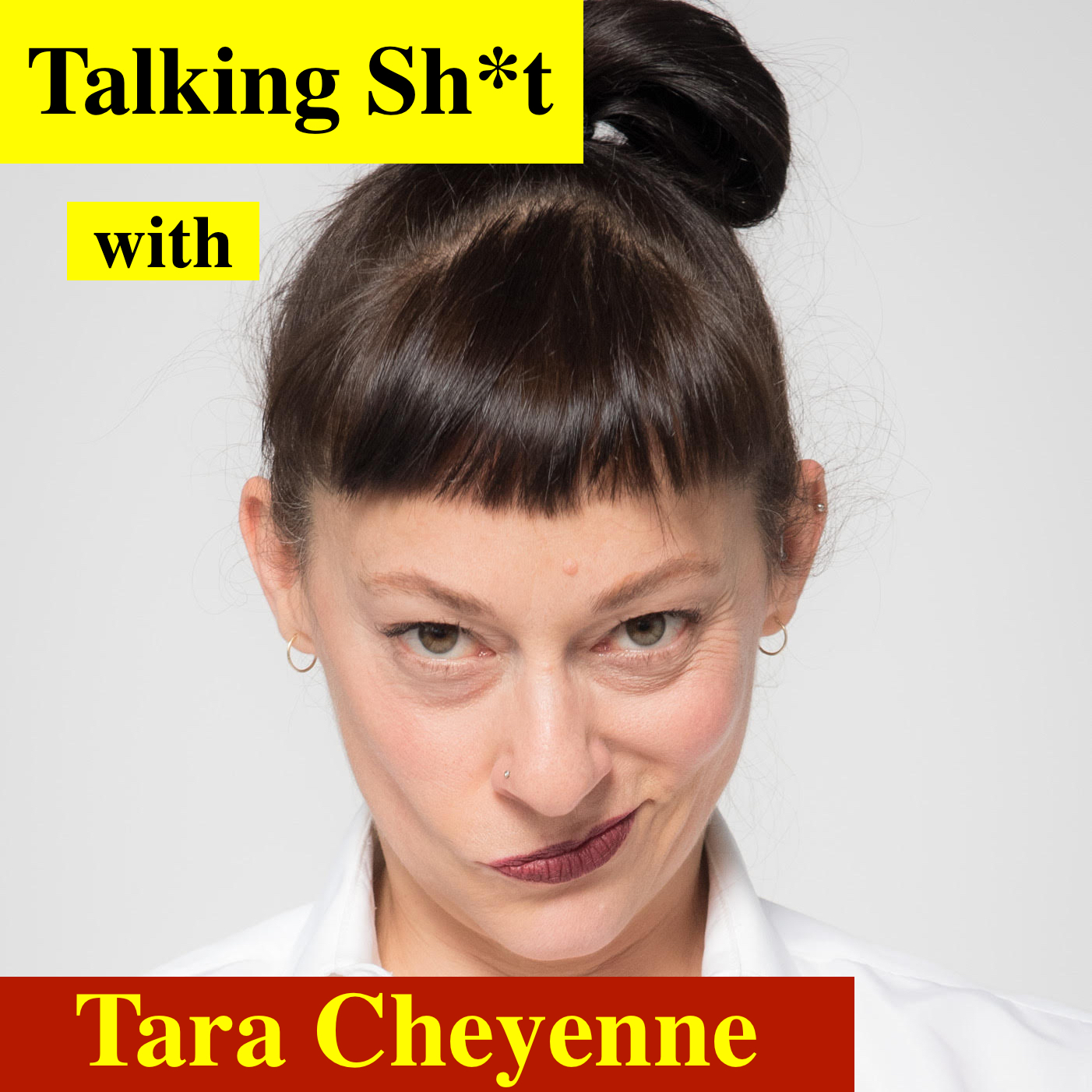 Episode 14 - Interview with Singer, Songwriter, Heavy Metal Musician and Marketing Whizz Cherine Amr - Notes from the Studio
May 16th, 2020 by taracheyenne
Talking Shit with Tara Cheyenne is a Tara Cheyenne Performance Production
Instagram: @TaraCheyenneTCP  /  FB: Tara Cheyenne Performance
Podcast produced, edited and music by Marc Stewart
© 2020 Tara Cheyenne Performance
Subscribe/follow share through Podbean and Google Podcasts and Apple Podcasts/iTunes
Donate! To keep this podcast ad-free please go to: 
CHEEN (Cherine Amr) is an Egyptian guitarist, singer and songwriter. She was born and raised in Alexandria and started singing at the age of 6. When she was 18, she got interested in rock and metal music which motivated her to learn the guitar. At the age of 19, she started writing her own songs and formed the first female metal band in the Arab world, MASSIVE SCAR ERA  [MASCARA].
The Egyptian director, Ahmad Abdalla heard one of her solo pop rock songs "Ab3ad Makan" and featured it in the Egyptian film Microphone (2011), starring Khaled Abol Naga, Menna Shalaby, and Youssra El-Lozi. After the success of the song, more audience got interested in her music, so she formed her solo band, CHEEN, and released an album under the name "3ALAM TANY". 
Artist that Cherine likes: Leprous, Killswitch Engage, Fleshgod Apocalypse, Unearth, Hayely Williams, El Morabbaa, Sayed Darwish, Dina El Wedidi, Massar Egbari.  
شين )شيرين عمرو(، مواليد الإسكندرية. بدأت بالغناء في سن ٦ سنوات. وقررت تعلم الجيتار. في سن ١٨ بدأت بالاهتمام بموسيقى الروك والميتال. بدأت بتأليف
 أغانيها وتلحينها في سن ١٩ وقررت تأسيس فريق الميتال النسائي الأول في العالممصر"ماسكارا" في ٢٠٠٥. قامت بتأليف أغاني من نوع البوب روك بعيدا عن الفرقة فاهتم المخرجالمصري أحمد عبد الله بأغنية "أبعد مكان" وطلب تقديم الأغنية من خلال فيلم ميكروفون عام٢٠١١ .
بعد نجاح الأغنية بدء الجمهور البحث عن أغاني شيرين و من هنا قررت تسجيل جميع أغانيهاوتقدمها للجمهور تحت اسم "شين"، وإسم الألبوم: عالم تاني
About Tara:
Tara Cheyenne Friedenberg is an award winning creator, performer, choreographer, director and writer. Artistic Director of Tara Cheyenne Performance, she is renowned as a trailblazer in interdisciplinary performance and as a mighty performer "who defies categorization on any level"(The Georgia Straight).
Tara is celebrated nationally and internationally for her unique and dynamic hybrid of dance, comedy and theatre. The string of celebrated full-length solo shows to her credit includes bANGER, Goggles, Porno Death Cult, and I can't remember the word for I can't remember, and she partners regularly on multidisciplinary collaborations, commissions and boundary-bending ensemble creations. When she isn't creating innovative movement for theatre, Tara performs around the world- highlights include DanceBase/Edinburgh, South Bank Centre/London, On the Boards/Seattle USA, and High Performance Rodeo/Calgary. Recent works include The Body Project (premiering 2020/21 season) The River with dance artist Miriam Colvin and artist and activist Molly Wickham (premiering 2021 in Wet'suwet'en Territory), empty.swimming.pool with Italian dance/performance artist Silvia Gribaudi, (Castiglioncello, Bassano, Victoria, B.C. and Vancouver, B.C.), how to be (Vancouver, B.C.) , and I can't remember the word for I can't remember (currently touring). Tara lives on the unceded and traditional territory of the xʷməθkʷəy̓əm (Musqueam), səlil̓wətaɁɬ (Tsleil-Waututh) and Sḵwx̱wú7mesh Úxwumixw (Squamish Nation)/East Vancouver with her partner composer Marc Stewart.
© 2020 Tara Cheyenne Performance 
Share
|
Download(

Loading

)